When it comes to website redesign, the ultimate goal is to drive revenue. At Class, we specialise in helping you attract traffic, identify successful customer journeys, and generate website conversions that deliver a tangible return on your digital marketing investment.
Why Choose Class?
Unlike other PPC agencies that charge a flat management fee, we offer a transparent partnership model solely focused on website conversions. With Class, you only pay for the leads and conversions we deliver. This unique approach ensures value creation for both parties, fostering a long-lasting and fruitful relationship. We possess the expertise to implement winning strategies, both on the ads side and website optimisation. While getting people to enter your shop may be easy, making them purchase is a different game altogether. Rest assured, we have the skills and knowledge to drive conversions and increase your sales.
Our Proven PPC Process
Google Pay-per-click (PPC) advertising is an incredibly cost-effective way to drive targeted traffic to your website. With our strategic approach, you only pay when a user actually reaches your website. We start by building a customised keyword list based on what potential customers would search for when looking for your brand or similar products and services. Regular performance insights enable us to refine our keyword selection, maximising customer engagement and clicks. Additionally, we implement conversion tracking to precisely measure the actions taken by your customers after clicking your ad, ensuring that your marketing goals are being met. By continuously optimising our strategy, we increase impressions, clicks, and ultimately, conversions.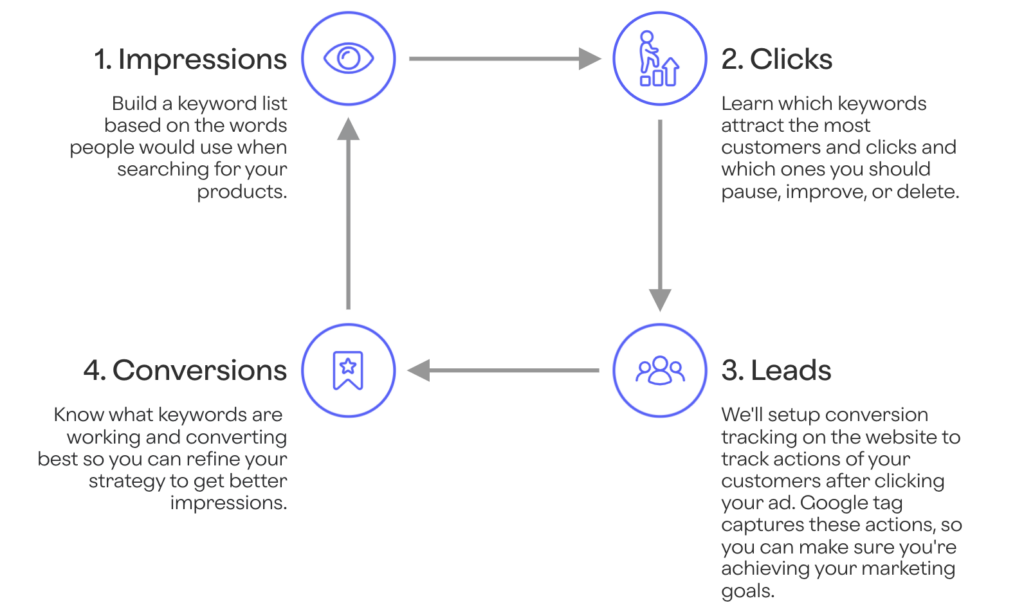 Partner with Class for Exceptional PPC Results
As you can see, Class stands out from the crowd by offering a unique pay-per-conversion model and results-driven approach. This mutually beneficial approach will help create ad campaigns and websites that are designed with your success in mind. Improving your sales, customer base, and reputation will generate lasting value for both parties. If you would like to learn more about how Class can help you succeed with PPC after reading this blog post, please don't hesitate to reach out and arrange a call with Chris.
Find out how we can help. If you would like to work with us let's have a chat.